Eliamep policy paper on the opposition's presidential candidate Kemal Kilicdaroglu and the position, debate and standing of Alevis in Turkey. As being both Alevi and Kurdish, Kilicdaroglu would be a first in Turkey, never had an Alevi such a high position withtin the state structure. After years of ever harsher polarization, his presidency could help to bridge divides, be they ethnic or confessional and bring the country closer to accepting its still existing pluralism. The fact that his candidacy is supported by both parties with roots in political Islam and Turkish nationalist , already is full of symbolism of a more united Turkey.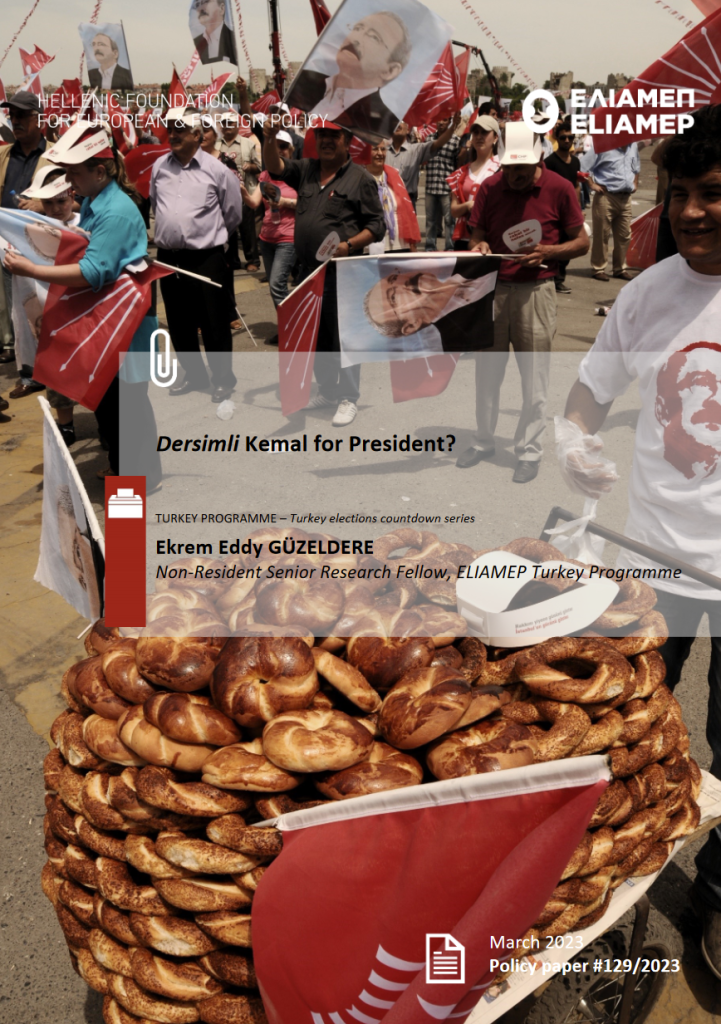 Full paper as pdf: https://www.eliamep.gr/wp-content/uploads/2023/03/Policy-paper-129-Ekrem.pdf
From the introduction:
Early March 2023 witnessed what was a political roller coaster, even by Turkish standards. Before the opposition Nation Alliance (the Table of Six: CHP, IYI, Saadet, Deva, Gelecek, Demokrat) presented the CHP Chair, Kemal Kılıçdaroğlu, as their joint presidential candidate, one party (IYI) left the alliance on Friday (4 March) due to their opposition to his candidature. However, IYI subsequently re-joined the alliance after a weekend packed with inner and outer party turmoil. Which means that the biggest Opposition block has had a joint candidate since 6 March. That the head of the biggest Opposition party and second biggest party over the last 20 years should be that candidate would be no cause for surprise, were it not for his ethnic-religious background. Because in a Turkey where an ordinary Alevi can barely hope to become a simple civil servant, his candidacy is truly something new. After two decades of rule by a party with roots in political Islam, Alevis remain marginalized with minimal representation in the state bureaucracy, politics and big business. None of the Turkey's 81 appointed governors is an Alevi. Not one government minister or well-known presidential advisor is an Alevi.
After its unsuccessful Alevi initiatives, which addressed issues including the recognition of Alevi places of worship and the integration of Alevi belief into the education system, the AKP shelved the issue. After years of political and societal polarization, Kılıçdaroğlu's candidature, backed as it is by three parties with roots in political Islam, one Turkish nationalist party and a conservative party, could help bridge differences and bring society closer together by encouraging greater and broader acceptance of ethnic and confessional differences. The fact that Kılıçdaroğlu's candidacy was announced at the headquarters of Saadet, the party which, together with Milli Görüs, represents the very core of Turkish political Islam, with Atatürk posters hanging on its façade while the crowd chanted "Turkey is secular and will remain so", could not have been more symbolic of a more united Turkey. On 14 May (and perhaps 28 May, should a second round prove necessary), the majority Turkish-Sunni electorate will decide whether to give an Alevi Kurd from Dersim a chance to rule the country.