Policy Paper on the state of the opposition after the May elections. Turkey is facing the threat of having no viable opposition anymore, but a cosmetic one that serves to legitimize the government, but doesn't have any real chances of winning important elections. If the opposition doesn't act united in the municipal elections, which are scheduled for March 2024, the AKP will most likely win back cities like Istanbul, Ankara, Adana, Mersin and Antalya. The momentum is with the government, the best for the opposition in the current situation is that there are still 8 months until the elections, an eternity in politics …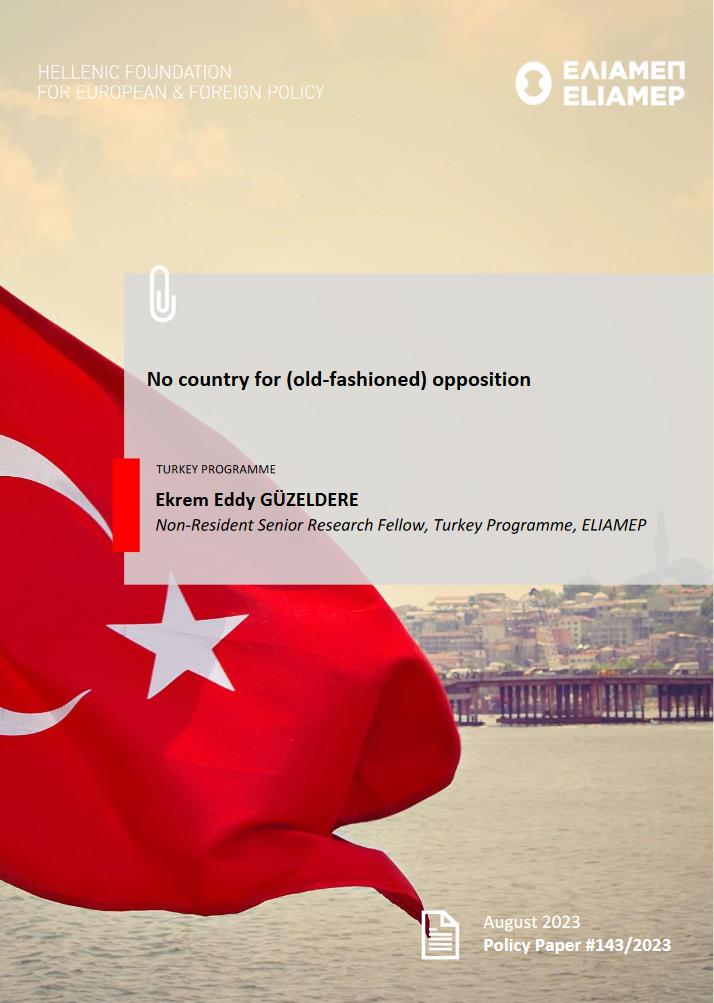 pdf-version: https://www.eliamep.gr/wp-content/uploads/2023/08/Policy-paper-143-Guzeldere.pdf
Even if the "most important election of the century" happened just two months ago, Turkey is already preparing for another important electoral show-down: the municipal elections of March 2024.
Since the May elections, the momentum has been with the government, in terms of its alliance, strategy, and programme for the term ahead.
It is possible that Turkey will have no viable Opposition in the immediate future.
It looks as if Kemal Kılıçdaroğlu, CHP chairman since 2010, will continue as if "nothing has happened".
The CHP's alignment with the extreme right (Zafer) makes a future collaboration with the HDP unlikely.
The HDP will have a new leadership in November 2023 and might field its own candidates in the 2024 municipal elections.
The three conservative parties in the Nation Alliance—Saadet, Deva and Gelecek—are facing a crisis of purpose: they are irrelevant independently, but a merger seems unlikely and they are unhappy within the current alliance.
If the Opposition doesn't act together, the AKP will most likely enjoy a landslide victory in the March 2024 municipal elections.