Together with Medyascope, we as Eliamep's Turkey program, are co-organising a 7-part webinar series. The topic I moderated on 28 June 2022, the fourth webinar, concerned Turkey's opposition, the Millet Alliance and to what extent this is a value-based and not ideological alliance for the upcoming both presidential and parliamentary elections. We however, also looked at Hungary, where the opposition tried a similar alliance against Victor Orban with a joint candidate and failed. What can Turkey learn from this experience, what brought the alliance together in Hungary and what in Turkey, are the participating parties and politicians credible, do the voters really care about these issues or is not the economy the main issue and related questions.
The webinar took place on 28 June at 16 CET (17 in Turkey), but is permanently available at this link: https://www.youtube.com/watch?v=lTQ9MNTUshA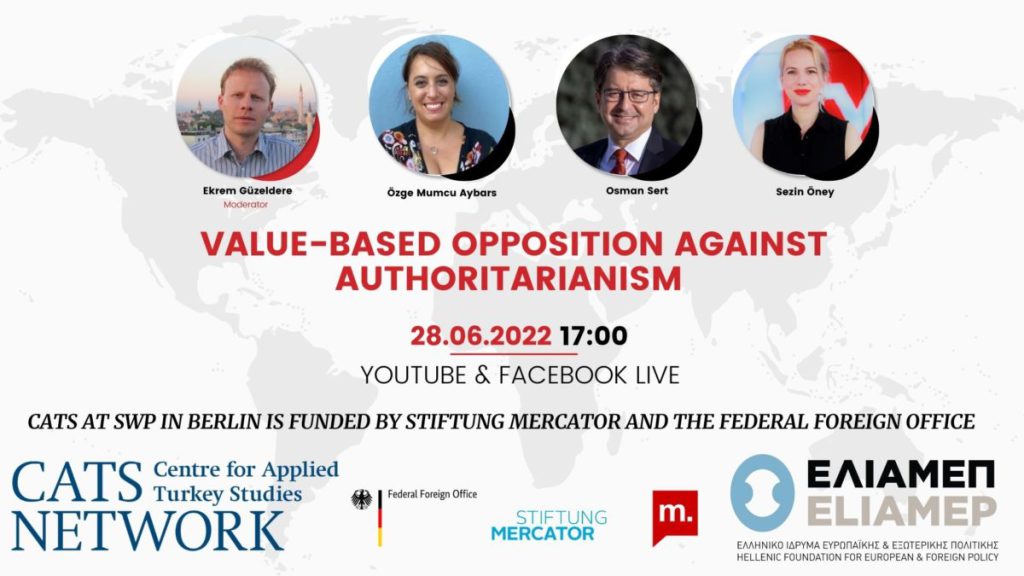 The speakers were:
Özge Mumcu Aybars is one of the founders current board member and coordinator of the Uğur Mumcu Investigative Journalism Foundation, which she co-founded in 1994 with family members Güldal Mumcu and Özgür Mumcu. She graduated from Bilkent University, has an MA in Political Science and Public Administration from Ankara University and a PhD from METU Political Science and Public Administration. Her thesis applied political discourse analysis using humour: "Hegemony versus humour: an analysis of Turkish polarized politics through press portrayals 1947-1960." She worked as a political advisor for the Democratic Left Party in 2006 and 2007. She has written several articles for Cumhuriyet, Birgün, T24 and Yeni Arayis since 2010. From 2011 – 2012, she was an Erasmus Student at Pantheon University in Athens, Greece, from where she wrote several articles on the then economic crisis in Greece for Cumhuriyet. She worked as an advisor at TEPAV in EU and CoE relations, peace process, and human rights issues from 2012 to 2014. In 2016 she was elected for an EUVP Fellowship. Between 2014 – 2018 she worked at Başkent University, Faculty of Communication as a lecturer. In addition, she worked as a part-time lecturer at Bilkent University International Relations Department. From 2018 on, she has been working as the consultant for CHP Istanbul Deputy and Principal Advisor on Foreign Affairs, Mr. Ünal Çeviköz.
Osman Sert is the Research Director at Ankara Institute. As a journalist he covered the economy, the Prime Minister's office and diplomacy. He was a diplomatic reporter for Kanal 7, diplomatic editor at Cnn Turk and Jerusalem Bureau Chief of TRT. He served as advisor of Ahmet Davutoglu, Minister of Foreign Affairs (2009-2014) and Prime Minister (2014-2016) of Turkey. He is one of the editors of perspektif.online , a Turkish website for mainly academic articles on domestic, foreign policy and social issues. He is also a columnist at Karar newspaper.
Sezin Öney is a journalist and a political scientist based in Istanbul. She resided extensively in Hungary and Greece. Her interest in her subject area populism was sparked about a decade ago; she focuses specifically about populist leadership, populism in Turkey and Hungary. She studied International Relations, Nationalism, Jewish history, Austro-Hungarian history, Linguistic Rights, the Kurdish Question, Comparative Politics and Discourse Analysis. As a journalist, her specialization is on European affairs and global politics; with a comparative angle to Turkey. She currently writes columns for the opinion web site Politik Yol.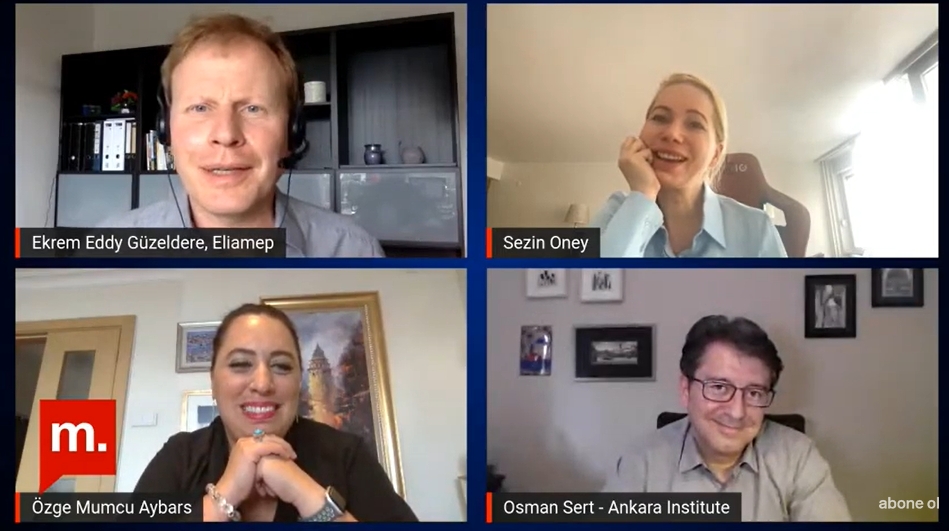 Since the introduction of the presidential system in 2018 and the necessity to reach 50%+x votes to win the presidential elections, party politics in Turkey have come to be performed in alliances. While the governing party AKP has joined forces with the MHP (Cumhur or People's Alliance), six opposition parties have come together in the so-called Millet (National) Alliance. These include the Kemalist CHP, the secular-nationalist Iyi (Good) Party, the AKP-splinters Deva and Gelecek, the main representative of traditional political Islam Saadet and the centre-right Demokrat Party. This shows that the Millet Alliance is not ideological, but has agreed to return to a parliamentary system and defend certain political values such as the rule of law, democratic standards, the independence of the judiciary and human rights. Since the Millet alliance parties represent a broad spectrum of political currents, this could help to overcome the increasing polarization and lead to more inclusive policies. However, is it credible that these parties will really defend democratic values, for which none of them was known in the past? Are voters in Turkey, who are currently mainly concerned about the economy, rising costs of living, inflation and a devaluation of the Turkish Lira, really interested in the independence of the judiciary or freedom of expression? What has the Millet Alliance to say about the economic situation and other daily concerns? Whereas the Kurdish votes were decisive in the 2019 municipal elections where a joint opposition could win in major cities like Istanbul, Ankara, Izmir, Mersin or Adana, the representative of the Kurdish political movement, the HDP, is not part of the alliance. What can the Kurds expect from the Millet Alliance?
The phenomenon whereby opposition parties are joining forces with a pro-democracy attitude in elections against authoritarian leaders can be observed globally. From Poland to Hungary to Brazil. We will therefore also look at the Hungarian case and what lessons the Turkish opposition could learn from the Hungarian experience.