More than one reason to stay
Policy paper on the Afghanistan-Turkey relations after the take over of the Taliban in August 2021. The paper was published on 15 July 2022.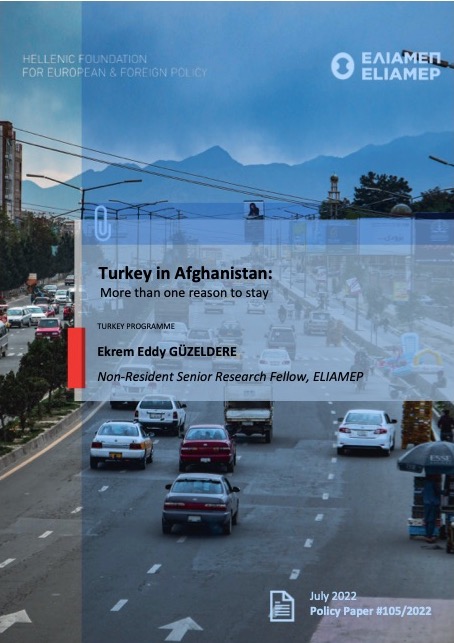 Despite a long history of bilateral contacts, Turkey's most intensive commitment in Afghanistan only started in 2001 with the NATO mission.
A first friendship treaty was signed back in 1921; the first official foreign visit to the Republic of Turkey was made in 1928 by King Amanullah of Afghanistan.
Turkey's engagement in South Asia started with Afghanistan but has recently been Pakistan-centred.
As the only majority-Muslim NATO country, Turkey was viewed more positively by the Afghan population and the Taliban than other NATO member states.
Ankara has been reaching out to the Taliban since summer 2021. However, the Taliban have not met Turkish demands for a more inclusive government, or in relation to girls' education.
Turkey has become a haven for non-Taliban (opposition) Afghans, who are told not to voice their criticism of the Taliban.
There are four main motivations for Turkey's engagement in Afghanistan: 1) improving relations with the US; 2) stabilizing Afghanistan to prevent migrant flows; 3) getting a foothold in the geopolitics of the region; 4) benefitting from the economic potential.
Kabul international airport is important both for the Taliban and for Turkey. For the Taliban, it is their window to the world; for Turkey, it is an opportunity to profit economically and to boost its international status.
In Afghanistan, Turkey's soft power approach includes TIKA (Turkish Cooperation and Coordination Agency), the Maarif schools, and the Yunus Emre Institute. These institutions have remained operational.
In 2020, Afghanistan received the third largest amount of Turkish developmental aid, amounting to 36.5 million USD.
Even if the world, and Turkey, are currently focused on Ukraine, Afghanistan will continue to occupy an important place in Turkey's regional foreign policy.
Read here in pdf the Policy Paper by Ekrem Eddy Güzeldere, Non-Resident Senior Research Fellow of ELIAMEP's Turkey Programme.